An Astrologer Weighs In On Saint Laurent's Anthony Vaccarello
By Guan Tan, 27 June 2018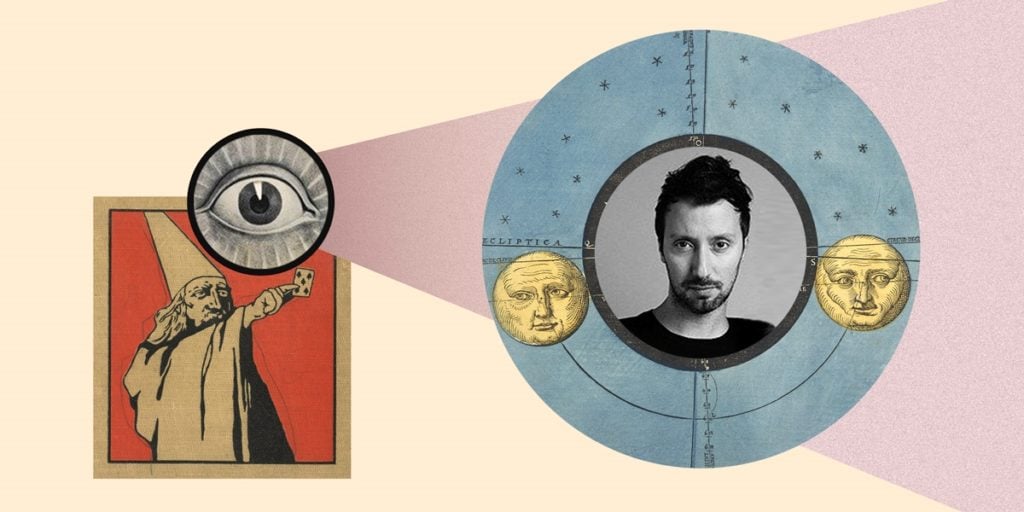 Credit: Felicia Yap/ Instagram.com
"In your natal chart, Yves Saint Laurent, the ten main planets are distributed as follows — the three most important planets [are] Jupiter, Venus and Mercury," wrote an astrology website to the Parisian fashion designer. There were many achingly poignant points in this report: "With a prominent 10th house, your destiny's achievements may be very notable: the 10th house represents your career, your public life, and your ambitions."  The report continues to deliberate Saint Laurent's romantic life, "once you find your soul mate, you feel more comfortable and, if the harmony with your partner is rich enough, you may stay with [him] your whole life through."
He did just that, and Saint Laurent passed on the 1st June 2008, leaving an indelible footprint on the global fashion industry, women's lives, and his long-time partner, Pierre Bergé. And till death did they part.
Famed fashion designers have been extensively studied from an astrology viewpoint. Amongst them — Alexander McQueen, Karl Lagerfeld, Gabrielle Chanel, and Christian Dior who strongly believed in his astrology.
In this sense, astrology is a subject which maps out the planetary alignments of a person's birth time (or natal chart) and the life that ensues. The link between planets' movements and human life has long been shrouded in mystery. When questioned, a Singapore-based astrologer explained it in broad terms, citing the significant amount of "energy" imbued in a human at his time of birth comes from the planets. The astrologer is, perhaps, referring to the elementary particle called neutrino — a particle that made news this year for its potential to explain the universe's state of materiality. This subject of research has been picked up by astrologers to explain the link between the material bodies of this universe — the planets and the patterns of life that occur within. On that train of thought, individuals look to astrology to make sense of their lives — stringing the haphazard events of life together in a logical, predictable and explained manner.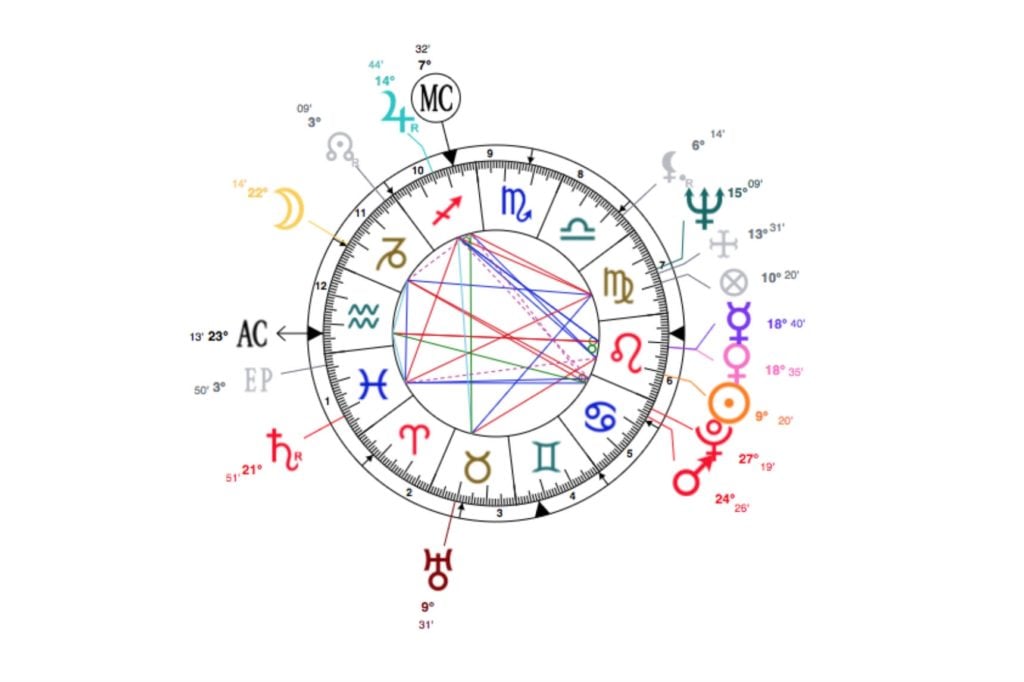 Credit: Astrotheme, A proposed natal chart of the late Yves Saint Laurent.
Likewise, in the fashion industry, astrologers map out fashion designers' birth charts for fans and on-lookers to make sense of their creative intentions. Fashion designers seem to unpredictably hop from inspiration to inspiration, and style to style. Why? Surely there is a skeleton of logic behind all these creative works.
Case in point is, perhaps, the 35-year-old Anthony Vaccarello who sits atop of the Saint Laurent pyramid. He currently serves as the fourth creative director — following in the footsteps of Alber Elbaz, Tom Ford (where Hedi Slimane tenured for three years), Stefano Pilati, and Hedi Slimane, all of whom left their own fingerprints on the brand's identity.
Vaccarello showed his first full-fledged Spring/ Summer 2019 Men's collection earlier this month, and it was reminiscent of the artistic language of his predecessor, Slimane. The clothes were cut narrow, the sleeves ended prematurely, and the waistlines crept high up the torso. Instead of showing the collection in the Parisian hometown of the brand, he decamped to New York City. While there were speculations that Vaccarello made the move to increase the visibility and publicity of his show, the designer said otherwise in an interview: "I like change and surprise… even to surprise myself and not be in that whole routine of always doing the same thing." And Vaccarello's behaviour was aligned to the forecasts of his astrological birth chart.
The designer was born on the 4th September 1982, and his birth time remains unknown. On this day, the sun was in the Virgo position, which makes him a Virgo as we know it. It also happened to be a full moon that day, which sat directly in opposition to the sun, in the Pisces position. It gave rise to a striking polarity in Vaccarello's life — he is pragmatic and enjoys control over quotidian routines like a Virgo would, but the Pisces side of him enjoys flow and fantasy. "The intention that he wants [to achieve] is at odds with what he needs to feel secure. When the sun is in Virgo, he is detail-oriented — practical details. But his moon says, "I want to do the imaginative things which are not practical," Singapore-based astrologer May Sim, founder of Selfstrology, explains.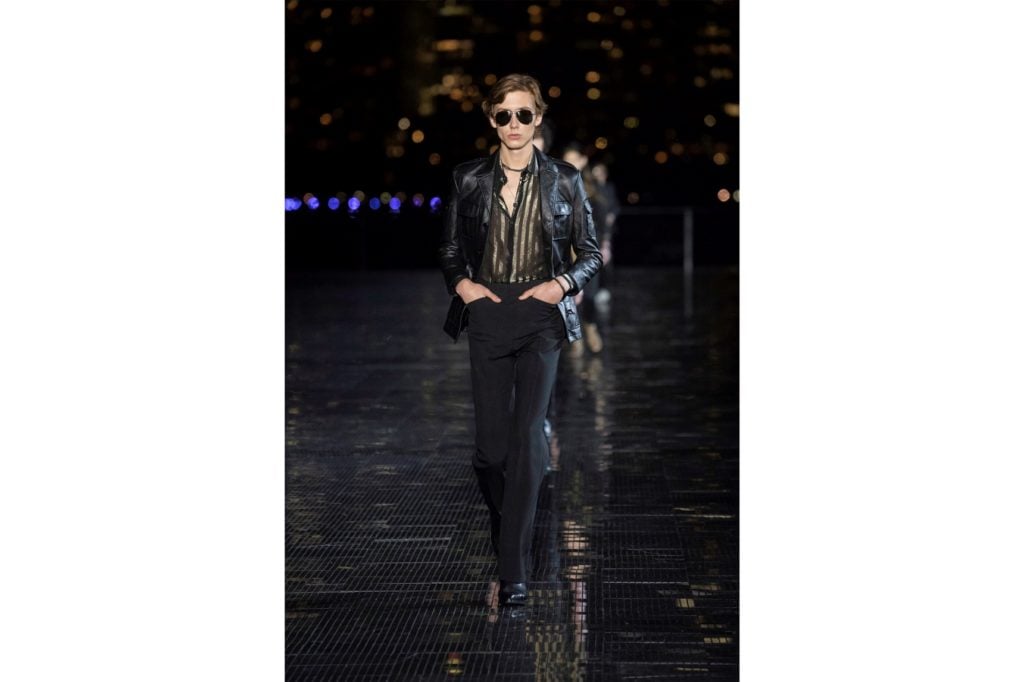 Credit: Saint Laurent, Look 3 from the Italian-Belgian fashion designer, Anthony Vaccarello's Spring/ Summer 2019 Men's collection for the Parisian house of Saint Laurent.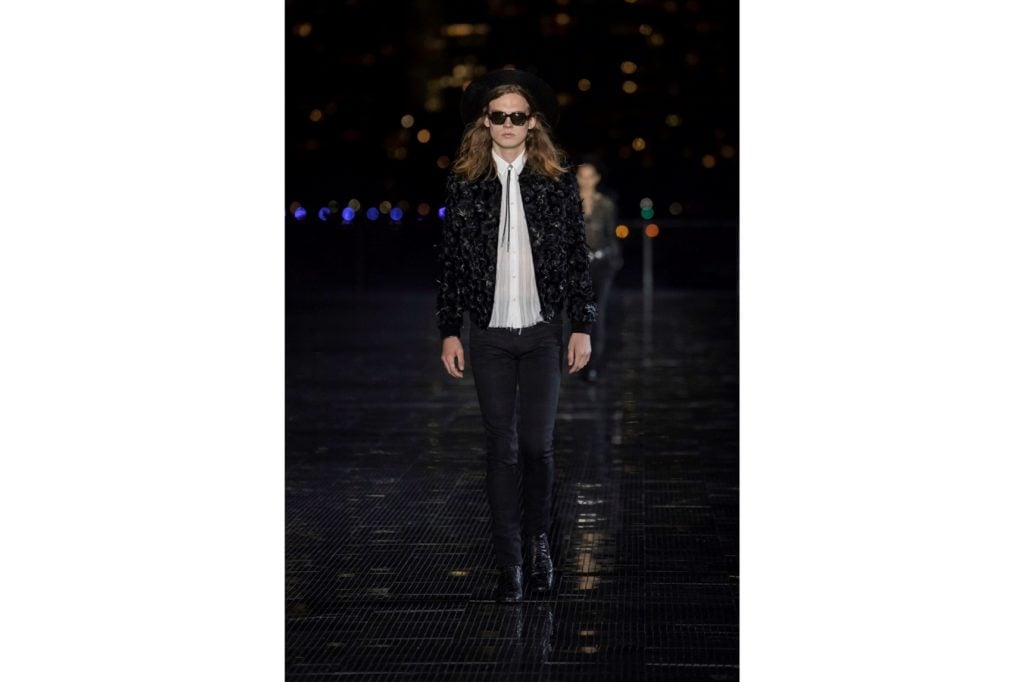 Credit: Saint Laurent, Look 60 from Vaccarello's Spring/ Summer 2019 Men's collection for Saint Laurent.
Taking things further, Sim looked at the position of Saturn — which was in conjunction with (or positioned beside) Pluto on Vaccarello's birthday. It tells us that "his normal default style is controlled in the sense that there is a structure to it… However, doing that is his comfort zone. He's trying to get away from that." The signs hint that Vaccarello looking for something more imaginative and less structural in his work and life. "What he is uncomfortable is a more relational, imaginative way — books, history, personal imagination. But that is his holy grail. And that way is not easy for him. Fantasy and imagination are the exact opposite of control. This is his personal journey as well. He himself as a person is trying to let go and go with the flow."
The planet Venus was in Leo, and it was squared (at 90 degrees) to Mars, which was in Scorpio. This resulted in a tension — "two parts of himself don't quite work together. Venus in Leo is showy." Mars in Scorpio, however, expresses masculinity in a discreet manner. "They express masculinity that has a sexy [element]."
The sex factor has always been a blatant fraction of the Saint Laurent business. In 1971, the late Yves Saint Laurent himself posed naked for a campaign image for his fragrance. When Tom Ford took over the reigns, he released yet another campaign of a naked Sophie Dahl for the release of the Opium perfume in 2000. Last year, Vaccarello launched a campaign of model Binx Walton dressed in a "nip-slip" dress. While he takes after his bold predecessors in the womenswear department, it seems like Vaccarello may take a reserved seat for his menswear line — hence the commercially pragmatic, trial-and-tested Slimane-like Saint Laurent Men's Spring/ Summer 2019 collection which he presented earlier in June.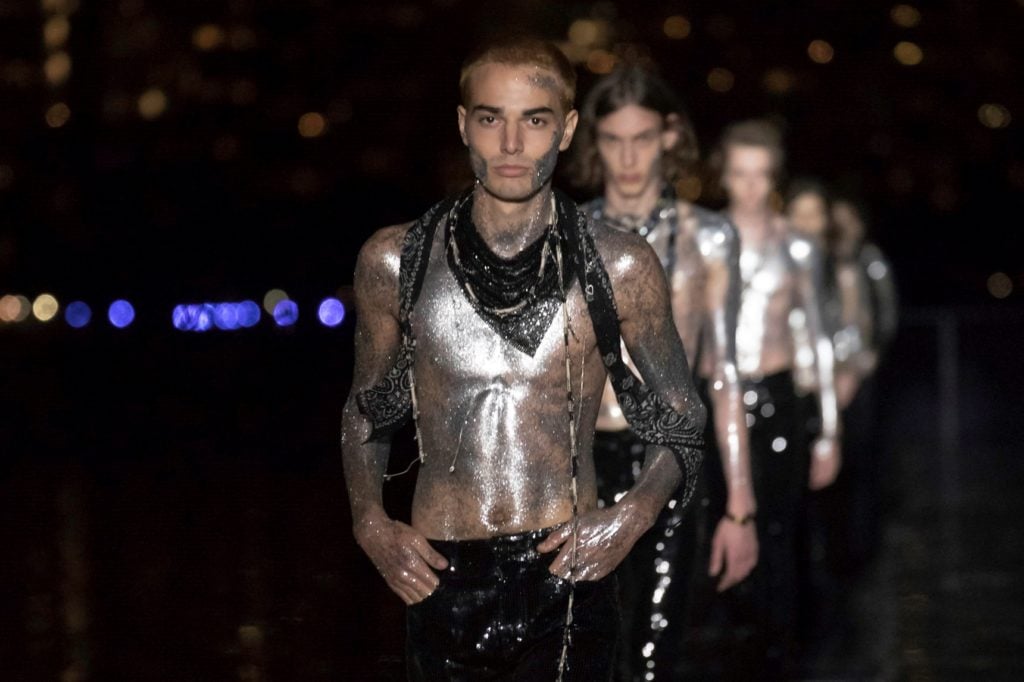 Credit: Saint Laurent, The final walkthrough in Vaccarello's Spring/ Summer 2019 Men's collection for Saint Laurent.
Sim continues, "Mercury was in Libra, unaspected at square Nodes." By unaspected, it "means that the planet was not [mathematically] connected to any other planets — it was not in line." This could be translated to his work, where Vaccarello's artistic ideas "is often at odds with society. His work is neither conventional in a formal way nor comfortable in a more personal way. The work merely stands as a piece of art in its own [right] —  as an idea of beauty."
The above also gives context to why Vaccarello designed those hip-high slit dresses that he did at his namesake brand, which he founded in 2008. Vaccarello once clarified that he did not see these dresses as flamboyant and sexy. Instead, they were structural and architectural. He was giving space and lines at the right places. When model Anja Rubik wore one of these dresses to the Met Gala in 2012, the tabloids picked up on it and dubbed the dress "infamous" — the general public perhaps found Vaccarello's concept of beauty a tough nut to swallow.
Tension and conflict seem to run through his internal and external lives — the very same tension that makes him the person who is capable of standing by his notions of beauty in womenswear and menswear.
Yet, that is not all. More is to come from Vaccarello — Mercury was not the only planet that was unaligned. On that day, Jupiter was out of line too. "It's quite unusual. It's rare for someone to have two unaspected planets," Sim ponders. An unaspected Jupiter tells of a Vaccarello that many might have yet to see. When circumstances arise and call for him to make a stand, "people will be surprised by how strong his ethical points are. He may surprise people by suddenly showing his very strong benchmark [in life]."
For the original article, see: https://tsingapore.com/article/astrologer-horoscope-weighs-in-yves-saint-laurent-anthony-vaccarello-fashion-designer